Oh the pain, the horror, THE TEETH!  If your baby's teething, you know you're not sleeping, not resting and not loving life right now.  I'm honestly no expert on anything, but lately I find myself giving lots of advice on teething.  (For some reason when you make teething toys, people think you know something about teething- ha, imagine that!)  But I have had 2 babies spring some chompers and I've talked to lots of parents to find out their favorites to try.  After much trial and error, I present to you my teething baby must haves!  Got something you love?  Share it in a comment so we can all get in on the good stuff!
1.) My boobs– I mean, really, when it comes to soothing a baby who's upset about anything, breast is best.  My littles have always nursed more when they're teething, though it will often be for shorter periods of time- I think the suction created by nursing makes it uncomfortable so they go on & off the nip a lot.  Also, they like to practice those sharp new chompers on whatever they're sucking on so be prepared for a baby barracuda who doesn't want to let go!
2.) The Essential Essential Oil– now oils are all the rage right now and I'm totally a believer.  But you've got to be careful- they're nothing to be toyed with, they're potent medicine.  I'm no expert and I really don't trust just anyone with a essential oils 101 Facebook group to tell me how best to use them.  When it comes to essential oils for my kids, I turn to someone who actually knows what she's talking about.  For me, that person is Elizabeth Reynolds of Lux Amare.  Elizabeth's been an aromatherapist for over 35 years and she knows her stuff.  I had heard about her Chamomile Baby Rub (CBR for those in the know) from other moms but had no idea what it was until I was introduced to it by a friend.  Well, low and behold, this stuff contains actual real magic.  Seriously.  It calms my babies teething pains, eases them to sleep, heals diaper rash, soothes ear aches, helps with colic, gas pains, cuts and scrapes and even provides emotional support for our little bundles of emotion.  No joke, this oil really does what it says- I now totally swear by it.  If I had one thing in my arsenal for teething pain, it'd be this.
3.) Counter pressure– teeth are attempting to push out of those sore gums, so push back, baby!  If you have a teething baby, I'm sure you're familiar with them chewing on absolutely everything.  If you want to give them some good things to chew on, I like a frozen bagel, a frozen clean washcloth, a mesh or silicone feeder with ice or frozen fruit and veggies inside (I like to use frozen grapes- but only in a feeder like this for little ones).  I really like this super cool silicone feeder from Boon.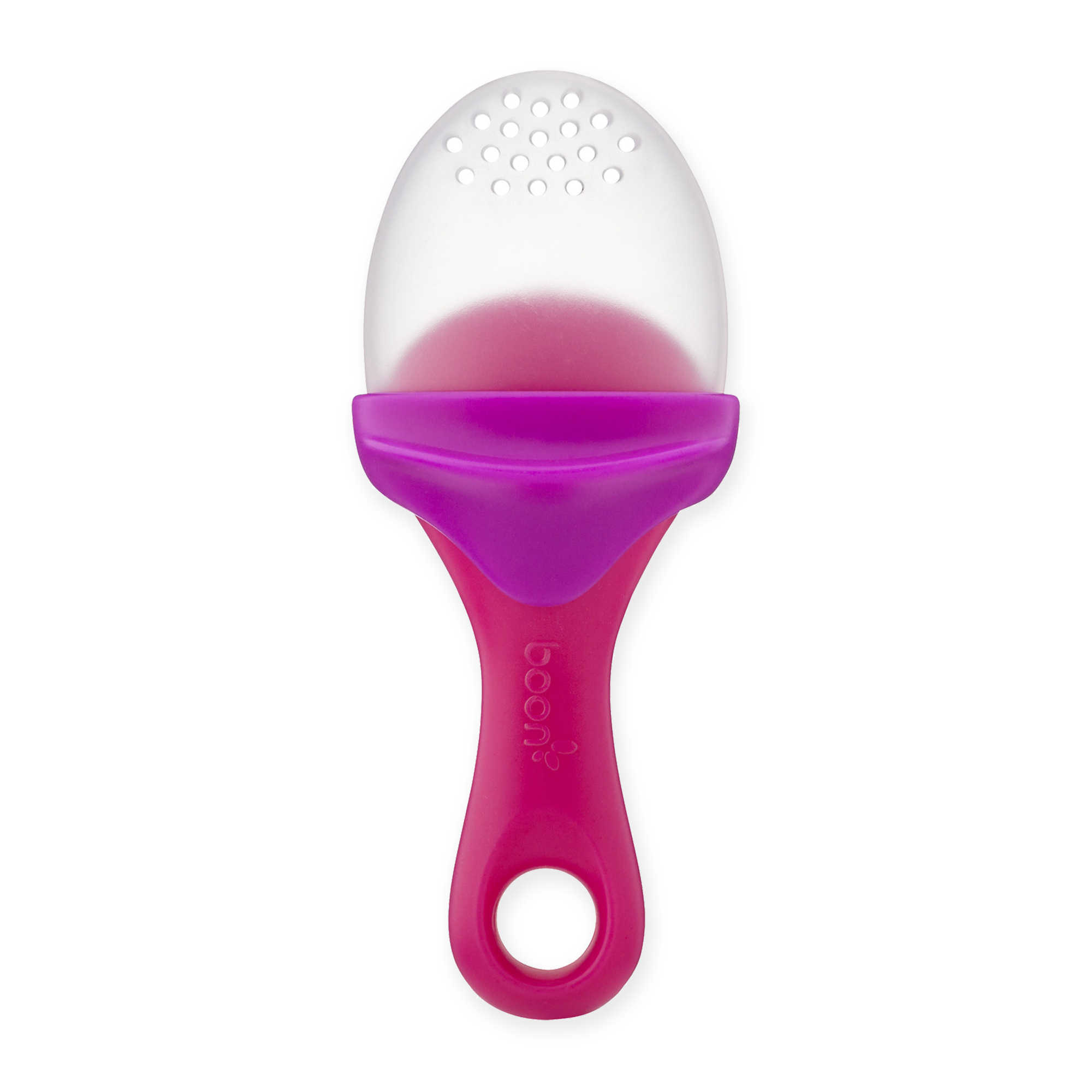 4.) A good teething toy– speaking of counter pressure, of course I've gotta include some of the best teething toys on this list.  Not only do I love our Tough Love Wooden Teethers, but I've got some other non-TLT's too.  The ideal teether will be a good size for baby to hold and chew with contours for sensory development, maybe make some noise and be made out of something safe.  If you're on this page, you know I hate plastic teething toys.  We've all used them so drop the guilt, but if you're looking for something safer for your little love, give them a teething toy made of wood, organic cotton or bamboo, silicone or natural rubber.
One of our all time non- Tough Love favorites is of course, Sophie La Damn Giraffe (isn't that the correct French pronunciation?).  Made of natural rubber, just the right size to hold and with an annoyingly appealing little squeak, this pricey long neck's got my heart.  Find her for $24.99 & up pretty much anywhere- do a search for teething toys and this one's definitely at the top of your list for good reason.  Is it worth the money?  Well, compared to similar quality natural teething toys, Ms. La Girafe, is fair and really, if your little teething demon quiets down over anything, you'll feel it's money well spent!  There was some controversy over Sophie getting moldy all over social media lately, but they've updated her design so new ones should hold up to more slobber (and this jury's still out on how dangerous a little mold is anyway- more on that in another post).
Other natural teething toys we love are the Hevea Natural Rubber Panda, Calmies Rubber Teether, and these awesome double duty natural rubber toys from Begin Again- they're made as bath toys, but they're shapes are ultra chewable, super fun and unlike other bath toys, they've got large holes for drainage to avoid any Sophie-like mold scandals.  At only $4 each, they're a real steal!
5.) The uber sexy amber teething necklace– more than just a fashion trend, I've come to believe in this one.  I had my doubts and explored them in a previous post,  but my son has been the proof in the pudding and I'm sold!  My now 4 year old was honestly a bitch when she was teething- those suckers came in & got sucked back into her gums so often & each bout brought us runny noses, fevers, crankiness, and basic baby PMS- it sucked.  We never used an amber necklace for her, nor had we yet invented the coolest, most natural teething toys on the planet.  Our now 16 month old son has worn an amber teething necklace since the first signs of chompers around 5 months old and I'll tell ya, that boy's a champ!  He has just finished cutting six teeth at once and before that, it was a round of 4 at once.  I honestly had no inkling they were even in until I took him to the dentist!  No fevers, no fussiness, no drooling, nothing- really, he didn't act like he was teething at all.  Now, he is the best baby on the planet (and I can say that totally objectively!), so it may just be him, but I'm not willing to chance taking that necklace off.
I'm gonna keep it simple and leave the list there for now, but as always, I'd love to hear some of your wisdom- what do you use that works?
Check out this all encompassing guide to more things you may love for your baby:  Jen Reviews